Special Notice!  We have nut allergies in the group!  Please do not bring items with nuts for dinner!
We also request a meat free alternative if possible.  
We thank our parents for preparing dinner for our youth each week!
Here are a few items that we have had in the past:  pizza, chicken strips, barbecue chicken, chicken strips, taco night, hamburgers, hot dogs,
Jimmy Johns subs, barbecue sandwiches, chili, baked potato bar, eggs, bacon and pancakes, baked chicken,with mac and cheese, meatball subs, pigs in a blanket, chicken tortilla casserole,  meatloaf and mashed potatoes, pizza, sloppy joes, spaghetti, roast beef, chicken pasta bake.
The money collected from the youth should be used to cover your cost if possible.  Parents should be aware that there may be some out of pocket expense.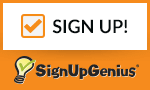 Youth Dinner List